Managed Service Provider (MSP) Solution
As your MSP, Elwood manages all your contingent staffing and supplier management activities, replacing uncertainty and risk with security and assurance.
Not Your Father's MSP
Our MSP solution is for companies that want to streamline their staffing model—without complicated and cumbersome rules, procedures, and tools supplier partners dread and end-users avoid. We've turned the average MSP's weaknesses into our program's strength.
Program Flexibility
We don't recycle a program template; we have the flexibility to design an MSP solution specific to your needs and wants.
Supplier Friendliness
Our program and contract are supplier friendly—no added invoice fees, no crazy terms or hidden fee structures, and no blind bidding wars. Suppliers actually want to partner with us!
Supplier Collaboration
We don't believe in loading your program with as many suppliers as possible. Instead, we select best-in-class suppliers that add value based on niche expertise and market presence. This approach incents supplier engagement and program participation.
Proprietary Technology
We facilitate MSP activities through Talent Fox®, our proprietary workforce tracking and data portal that's easy to deploy and adopt.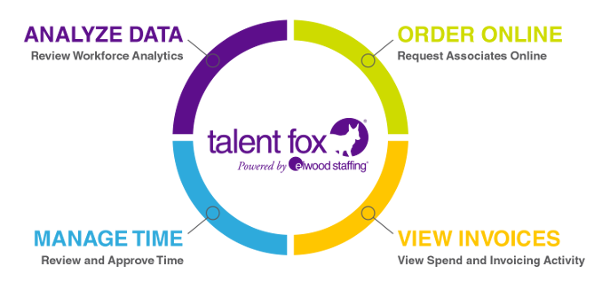 To learn more about our MSP solution and Talent Fox®, please contact the Strategic Sales and Account Support team »