A simple one-or-two-page resumé?
Yeah, right. A well-written resumé is one of the best ways to make a strong first impression. Be concrete in your details, concise in your wording, and, by all means, include a cover letter.
Start your resume with your name and your contact information. If you have a specific career objective, write one detailed sentence that summarizes your goals and how the specific position you are pursuing will help you meet your goals.

Follow with your experience. This section is the most important section to almost every single employer. It is your chance to highlight all of your skills and accomplishments in a succinct fashion. A well-crafted Experience section is thorough, not long. Only include professional positions, unless you are a recent graduate seeking your first professional positions or you performed lower-skill work during periods of unemployment and need to demonstrate job continuity. You do not need to provide detail about lower-skill positions, unless you are a recent graduate seeking your first professional position.
Include your position title, length of employment, and a one or two sentence description of your role. Highlight 3-4 of your key accomplishments in a bullet-point fashion below your job description.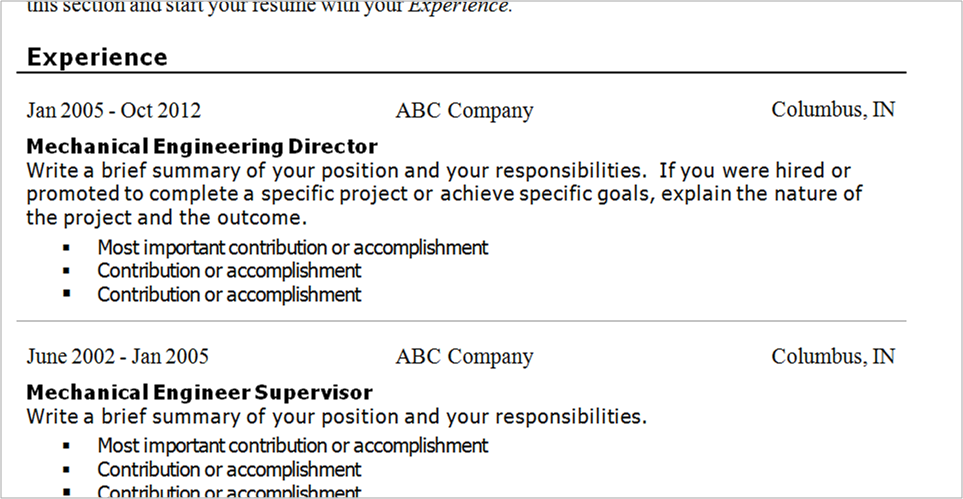 Finally, conclude your resume with your education history and your technical skill set. List your degrees in reverse chronological order, starting with your highest or most recent degree and concluding with your lowest. If you have achieved a bachelor's degree (or equivalent), you do not need to include information about your high school degree. Please remember that your age is protected information, so you should not include graduation dates. However, if you are currently pursuing a degree, include your anticipated graduation date. The software platforms and technical skills you list should be pertinent to the job you are pursuing.

When you're finished, don't forget to send it to us. We know you're fantastic, but we all need back-up.