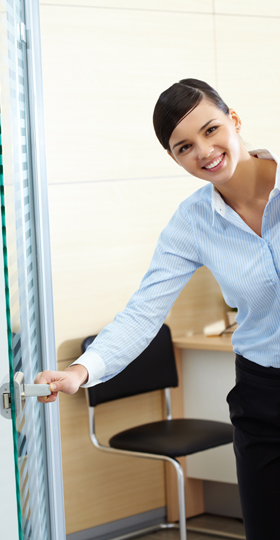 Associate Success Stories
We believe our associates are our greatest assets. We strive to help them realize their potential through employment that aligns with their values and rewards their commitment.
Randi L.
As an employee of Elwood Staffing, I was able to take a temporary assignment and turn it into a full time occupation. I now work for a great company with excellent benefits and the opportunity for advancement. Thank you Elwood Staffing for helping me find a job with all these great advantages.

Randi L.
Honda Manufacturing of Indiana
Michael G.
I would like to thank Elwood Staffing and [the company that I work at] for the opportunity to serve. My story begins with an intensive search for reputable employment. It has been a task to find work in a facility that is known to be honest, reliable, or respectable. I am grateful to say that this has happened for me through Elwood Staffing. I am able to work at one of [client company's] most well-known diesel engine plants. With the help of Mr. Jake, my liaison from Elwood at [client company], my transition to the workforce was very professional and welcoming. During orientation, I was given basic instructions that were required for me to work safely and proficiently. It was very informative and easy to understand. The Instructors were excellent in their presentations.

The Assembly Team I began to work with is called 6B. The Team members were very kind and courteous. My training went very smooth with excellent instructions and the change to learn without recourse. I could not ask for better team members or a better work environment. [The client company] has to be the cleanest facility I have ever worked in, and the assembly lines are so ergonomically sound and applicable to the job at hand, I have to say "It's the best Diesel Engine Plant I have ever worked for."

My experience with Elwood Staffing has been very good. All my questions have been answered promptly and courteously. Jake has made regular contact with me and has always offered help when needed. The best part is that since working at [client company] I have had no problems. Work has been steady with no complaints. It feels good to go to work and give my best for a company that has given me a chance to succeed in their industry. I am filled with joy and hope for a better life through the help of Elwood Staffing and my transition to full-time employment at [client company].

Many thanks and God bless,
Michael G.
Debra S.
Elwood Staffing gave me a second chance to start a new life in a new place where I didn't really know anyone. Their dedication to seeing their associates succeed has helped me to reach my goals. I would recommend anyone who wants to succeed join Elwood as an associate. I am glad I did and want to thank Elwood for their caring and helpful staff in helping me achieve what I thought was impossible.

Thanks for my new life; couldn't have done it without you.

Debra S.
Donnie M.
Since my employment with Elwood Staffing Services, I have been very pleased with Jake and his team. They are very helpful in many aspects with my employment with [client company].

Communications with employees has been very satisfactory in answering questions and concerns. I would highly recommend their services to anyone seeking employment due to the overall performance of the staff.

Thankfully,
Donnie M.
Tracy B.
I was referred to Elwood Staffing through a friend, did my interview, went to work the next day and have been with the same company for 2 years. The on site staff is wonderful and their associates. I would recommend them to anyone seriously looking for a good position. I also have referred a friend and they were able to get them a position as well and are still working as an Elwood Employee.

Thanks for all you have helped with.

Tracy B.
Sheldon B.
I would like to thank Elwood Staffing for giving me a second chance. Regardless of the facts of my past Elwood has given me a chance to rebuild a life and prove to society that I am a productive member. I have worked at Epson for one year and one half and have advanced twice. My morals and values are aligned with my work ethics which causes me to strive for excellence in my performance, attendance, and teamwork ability.

As I continue to strive for further advancements, my opportunities and success began with the kindness and support of Elwood Staffing and the second chance that I have been given.

Thank you,
Sheldon B.
Nancy P.
After unsuccessfully placing applications and resumes in the job market, I went to Elwood Staffing. They found me a position that fit my resume at a major corporation. The on-site Elwood personnel was professional and friendly and helped me whenever I had questions.

Nancy P.
Lawson Ray Knight
Kudos to Elwood Staffing and HMA
Editor, The Daily Home
In Dec. 2008, the printing company to which I had given 40 years of dedicated service, closed its doors after merging with a larger printer.

Without warning, I and 250 other workers were thrust into the nightmarish world of unemployed and lost benefits.

For eight long months, I sent out scores of resumes, filled out dozens of job applications, and went through numerous job interviews. I drove over 3,000 miles around this state seeking employment.

In the summer of 2009, I had all but resigned myself to the belief that, although able-bodied, no one was going to hire a 60-year-old man whose only skills were that of a commercial printer.

In August 2009, Elwood Staffing ran their ad in this paper for those who would consider temporary employment at Honda (HMA). In the depths of despair and seemingly at the end of a very short rope, I applied for those jobs at Elwood. After a two-week whirlwind of activity (testing, applications, background checks, physicals, etc.) I was afforded a job working on HMA assembly lines building Honda Pilot SUVs and Accord sedans.

I am very proud to announce that after 18 months of hard work and perfect attendance, HMA has granted me full-time employment and benefits.

If you are able-bodied and truly desire a job, Elwood Staffing is the one place you should contact. This company does not discriminate whatsoever in placing people in the job market. Their hiring practices are beyond reproach, as are HMA's.

This state, especially central Alabama, is very fortunate indeed to be the home of such a dynamic industry as Honda Manufacturing of Alabama and an employment service like Elwood Staffing Inc.

Sincerely,
Lawson Ray Knight
Sylacauga